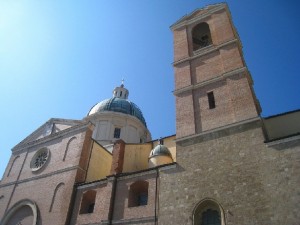 The Basilica of Saint Thomas in Ortona is the second cathedral of the archdiocese of Lanciano-Ortona, where the relics of Saint Thomas Apostle have been kept into since the XIII century. A loved cathedral that is visited by pilgrims from all over the world.
The 6th of September 1258 the Bones of Saint Thomas Apostle arrived from Chio in the Aegean Sea to Ortona.
The relics are today kept under the altar of the crypt into a golden copper urn with effigies made in 1612 by the painter Tommaso Alessandrini from Ortona. The Basilica of Saint Thomas Apostle has been rebuilt different times because of destructions caused by wars and earthquakes, and nowadays it is possible to admire a rich and varied architecture: from the portal of the Swabian epoch, to pointed arches, Swabian capitals, Gothic windows. Inside it keeps the stucco bas-reliefs of the first half. On its side the two pieces of pottery "the people from Ortona in Scio" and "The arrival in Ortona of the relics of Saint Thomas" made by Tommaso Cascella. Moreover in this chapel the silver bust of Saint Thomas Apostle is kept made in 1800 by a foundry in Naples.We remind you that Saint Thomas Apostle is the co-patron saint of the Archdiocese of Lanciano-Ortona together with Madonna del Ponte to which the Basilica of Lanciano is dedicated. The liturgical feast is on the 3rd of July, called "Feast of the Forgiveness" for the papal concession of the plenary indulgence.
We remind you to visit the official web site of the parish for information on pilgrimages: Parish of Saint Tommaso Apostle
From Amico Hotel you can easily reach the Basilica: show the way