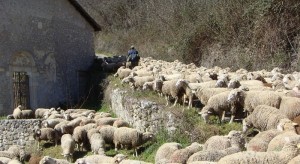 A holiday in Abruzzo allows to discover a territory rich of gourmet traditions, thanks to a food culture based on the typical products of the territory. We propose you today a view on the typical cuisine of Abruzzo.
The ingredients of the cuisine are simple but diverse: from the mountain gourmet, to the products of the countryside, to the tasty products of the sea. The first courses, strictly made with home-made pasta, remind of the tastes of the wheat cultivated on the hills; the very fresh meat come from cattle and sheep bred into the prosperous mountain pastures; the Pecorino cheese, the sausages and hams maintain the pastoral tradition of the region; and then excellent fruit and vegetable products, pulses and truffles which are very much appreciated. The gourmet cuisine based on fish courses is the most important one on the coast, with the fish caught out of the Adriatic sea, rich in ichthyic specialties and in very fresh anchovies.
The mild climate and the hilly territory caressed from one side by the marine breezes and from the other side by the high mountains allow the growth of important vineyards that produce montepulciano grapes for one of the most appreciated Italian wines.
PGenuine products that we will present in the next posts. Do not miss the updates, subscribe the newsletter!