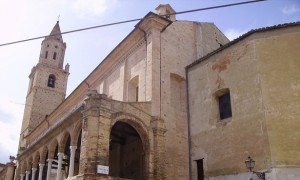 Settembre September is a month full of events in Città Sant'Angelo: from the days dedicated to the love for the earth and to its flavors, with the Festival of Grapes, to the Patronal Feasts of the Forgiveness.
From Friday the 7th of September a calendar full of events is going to begin: the Festival of Grapes will be back, with the parade of allegoric carts, the tasting and prize giving of extra-virgin olive oils, accompanied by all the flavors proposed by the wine shops of the territory. The tasting of grapes, wine, typical products from Abruzzo are surrounded by travelling attractions.
From the 14th to the 17th of September the celebrations of the Patronal Feasts of the Forgiveness will take place: the solemn procession of Saint Agostino alla Collegiata and Saint Michele Arcangelo with the opening of the "SAINT DOOR" OF THE FORGIVENESS.
Download the attached playbill with all dates and information!