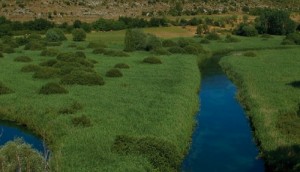 In the territory of Capestrano, a small village in the province of L'Aquila, famous for the necropolis where the italic statue of a warrior has been found (warrior of Capestrano, precisely), one of the most beautiful valleys of Abruzzo rises: the Valley of Tirino.
The mountainous area is charming. The landscape is run through by long paths for walking and by trekking itineraries, where everyone can have access, with different levels of difficulties. The Tirino river, which flows slowly through the green nature, allows very suggestive and relaxing excursions on canoe or kayak.
The Amico Hotel cooperates with associations and cooperatives which are strongly active to promote tourism in these charming places of Abruzzo. Ask information to the hotel for guided trips!
Shortly we will investigate further the itineraries of the Tirino Valley: do not miss the chance to receive the updates, subscribe our newsletter!